Welcome…
In the 9 years we have been manufacturing our canvas stretching machines we have shipped them to some of the most remote locations you can possibly imagine. We have machines in Iceland, Russia, Africa, Brazil, Mexico, Australia, Switzerland, Japan and Malaysia and that is but a few and yet we have very little presence in the United Kindom.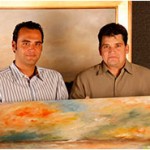 It is common knowledge that VAT fees tend to drive the delivered cost of our machines beyond the comfort level of some. To reduce those fees we have decided to absorb the cost of shipping for the U.K. for the month of May.  Doing this will reduce the VAT fee it and the total delivered cost by several hundred dollars.  The standard Fedex International Economy rate for a GS-60 and the ProMod-5 is approximately $620.
If you are a custom frame shop or large print-on-demand service that has the need to stretch canvas then there is no better time to purchase one of our machines.  The Gallery Stretcher 60 and ProMod-5 are considered by many to be the industry standard for high-production printing services.
Please follow this link and enter this coupon code when prompted "UK60". This coupon code is only for the GS-60 and the ProMod-5, the ProMod-8 requires special shipping conditions. If you require a quote for the 8′ model we can send you a Pro Forma invoice.
Thank you.
Greg and Dave
[mashshare]
[custom-facebook-feed]
"We Stretch the World"